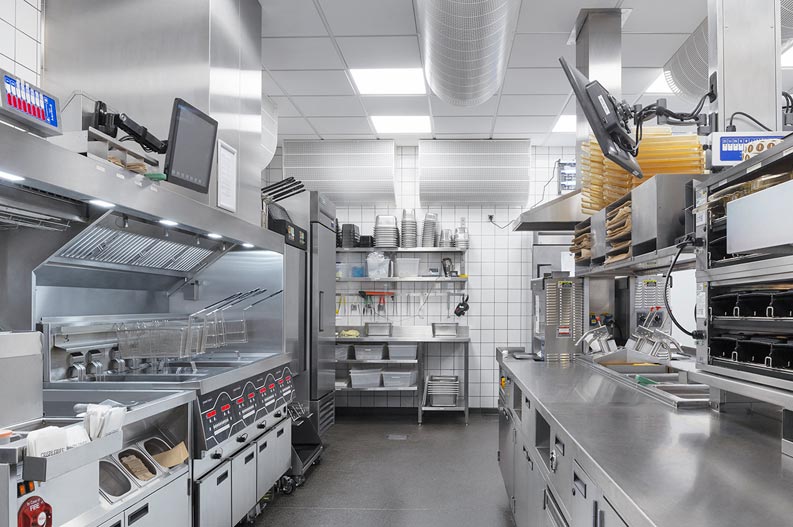 Steam Cleaning
Our staff is specially trained to steam clean all areas of commercial and food production kitchens. This technology effectively cleans kitchen fittings, equipment, rangehoods, walls, floors, under/behind the equipment and difficult areas.
The additional benefit is that steam minimizes pest, bacteria and biological issues in the kitchen.
Sanitizing Service
Our sanitizing procedure, using Healthy Kitchens special food-grade sanitizer, applied to kitchen surfaces after the clean, will further raise the level of hygiene of your kitchen.
Pest Management
Steam cleaning, sanitizing and pest management constitute our Kitchen Hygiene Service. Therefore, Healthy Kitchen can provide an effective pest management service, if this program is not already in place.
Report
A cleaning service report is emailed to management after each service with before and after photos.
Checklist
A checklist is completed and clipped on the board after each service for management and food inspectors.
Food Inspectors
Our Kitchen Hygiene Service is very popular as it keeps the food inspectors happy.
Kitchen Owners / Management
Joining our Kitchen Hygiene Service Program takes away the worries of kitchen owners/management regarding kitchen hygiene.
Cost-Effective
Due to our professionalism in the industry and our highly trained staff using the latest equipment, we are able to keep the cost within your budget while achieving high hygiene standards.
Certificate
To Healthy Kitchen, the customer is always our primary concern. This is shown in the innovative plan that Healthy Kitchen has developed to help its customer improve his/her business. Thus the company will award a Kitchen Hygiene Service Certificate to its valued customer who receives regular kitchen steam cleaning and sanitising treatment. This Certificate can be framed and displayed at the front desk.